The following are references to information that is common through out the history of Romy Hammes-Brannan.

The Romy Hammes - Brannan "brand" relationship began with a gentleman's handshake in 1959 and continued through 1964. It was based on a trust. Our goal was to win, have fun and develop a close and lasting relationship. It still exists. The result established a "brand", Romy Hammes - Brannan . That helped the Romy Hammes Ford dealership and Dick Brannan become a leader in racing. Race on Sunday, sell on Monday. That brand also established Ford Motor Company as a competitor and a dominant influence placing Ford Motor Company on the national map. It was about Drag racing during those years and Daytona 500 in 1963.

So rewind back to 1959. When I was informed that one of my sales demonstrators was drag racing at the local track on Sundays my reaction was great and how did it do? IT WON! That was in 1959, a black Galaxie 500 Ford square back. Dick Brannan was a very good salesman, very good mechanic for 6 days, and a very good driver on Sundays. We partnered from then on for several years. Brannan was also a very very savvy driver, and a very intelligent engineer and with street smarts. All of this was needed to get the edge. For example he invented details like using a windshield washer set up to wet the tires at the starting line. He had that as an exclusive until it was discovered and others followed. He was quiet and with polite manners in both winning and losing.

Dick Brannan would like to thank Mr. Romy Hammes...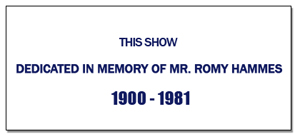 Romy Hammes of Kankakee, IL., not only sponsored my first race car, his life was an American success story so spectacular that Life Magazine did feature articles on him once in 1938 and again in 1946. In 1926, he bought the first of five Ford dealerships that he would eventually own during his lifetime. Romy Hammes was not only a car dealer, he was also the owner of Banks, Savings & Loans and other ventures including real estate development in Illinois, Indiana, Hawaii, New Jersey and Las Vegas, Nevada. He was my mentor and my friend. as time passes and I look back, I realize now more than ever that he and his son Jerry made it all possible for me.



Dick Brannan and Jerry Hammes, have joined forces to produced an "all Ford" car show in April, 2006 as a tribute to Jerry's father, Mr. Romy Hammes. Romy Hammes was not only the sponsor of the "world's Fastest Fords", driven by Dick Brannan in the early 1960s, he was also an American success story. His success was so spectacular that in 1938, Life Magazine, a popular world wide publication featured him and a story about the automobile industry. He was revisited by Life Magazine in 1946, this time being featured as a "U.S. Success Story". In 1926, he bought the first of five Ford dealerships he would eventually own during his lifetime. Romy Hammes was not only a car dealer, he developed property in Nevada, Hawaii, Indiana, New Jersey and Illinois. He owned Banks, Savings and Loans, and made countless other contributions to charity and Universities over the years. Today his name is probably best recognized in South Bend, Indiana at the University of Notre Dame, where he made, and Jerry continues to make an important difference to so many. All this, yet he found time to help a young man just out of the Navy driving a 1932 Ford Roaster go Drag Racing when few even knew the meaning.

Jerry and Dick are Ford people and both still drive Ford products today. Dick Brannan drove Ford and only Ford race cars during this entire racing career. He was the only driver allowed to drive a race car while working for the Special Vehicles Department (Early SVT) at the Ford Division Headquarters in Dearborn, Michigan helping develop and manage while still competing almost weekly at events.