223-229 Lafayette Blvd North - Second Location
[Back to topic list] [Back to South Bend, Indiana - 1940/1974 Topic]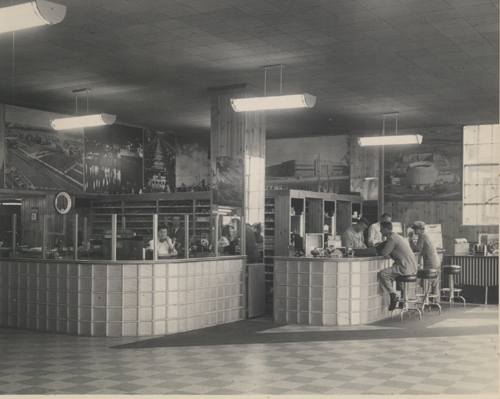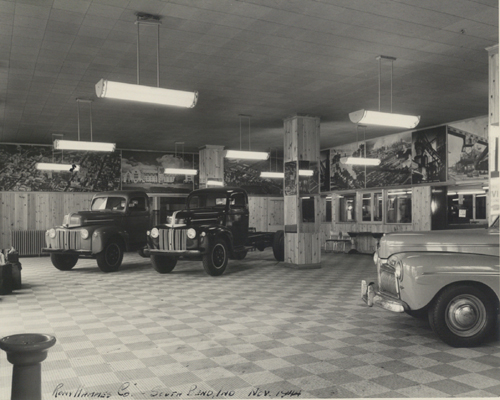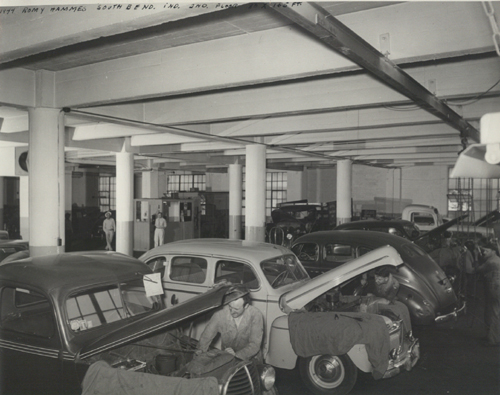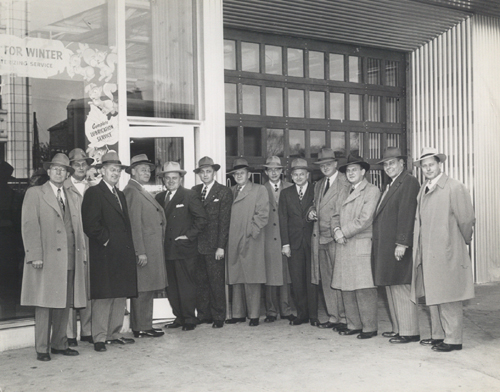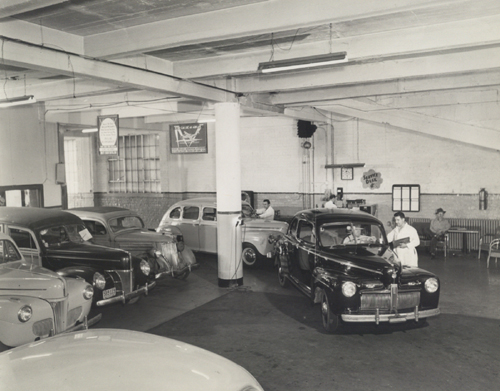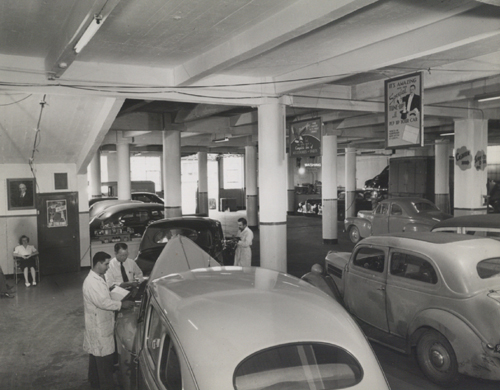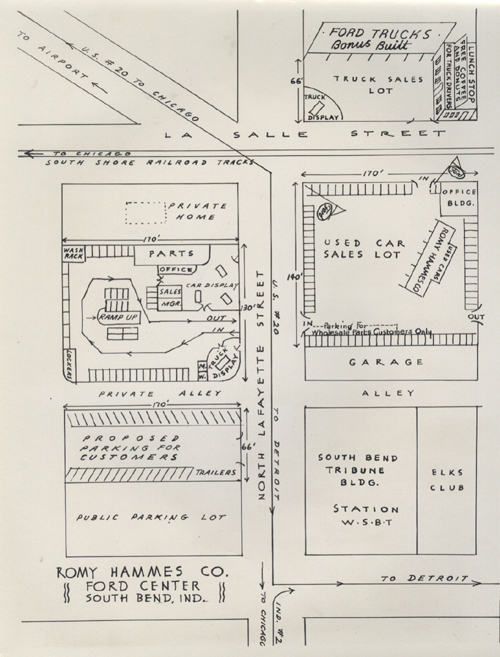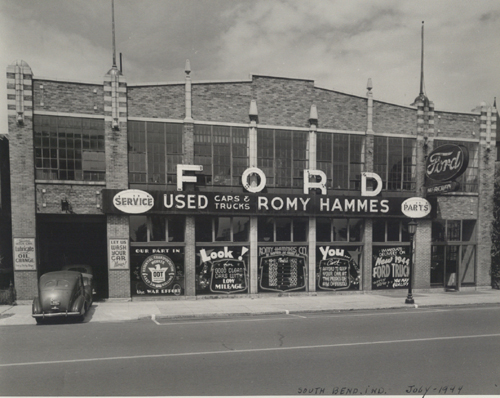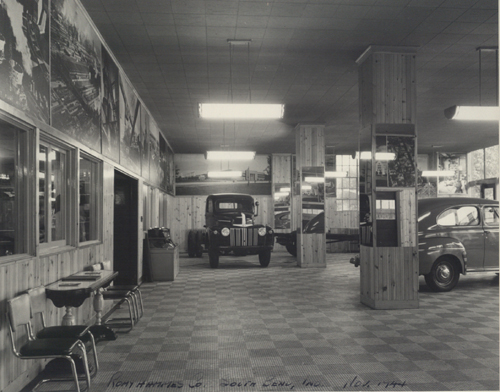 L to R...Wes Galser, John?, Unknown, John?, Wilbert Fischer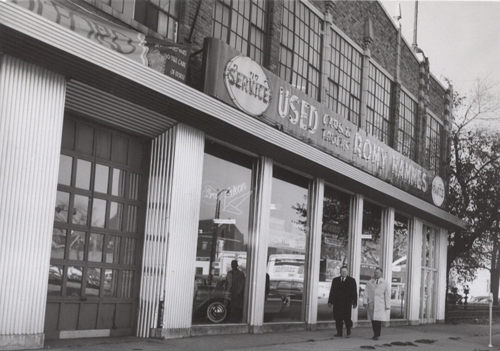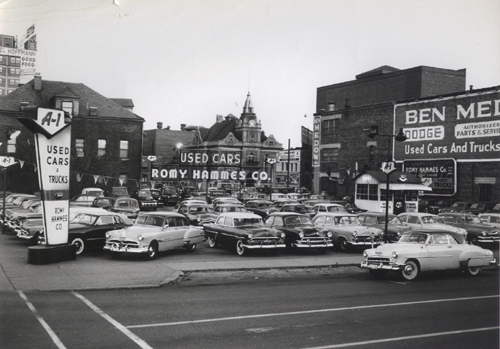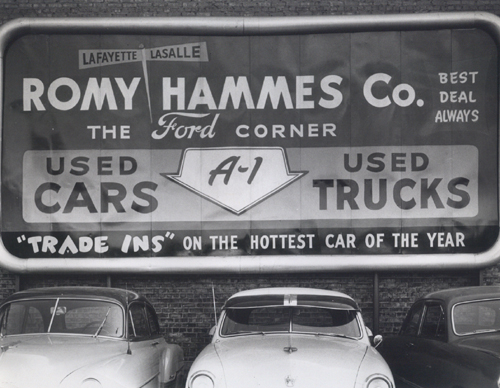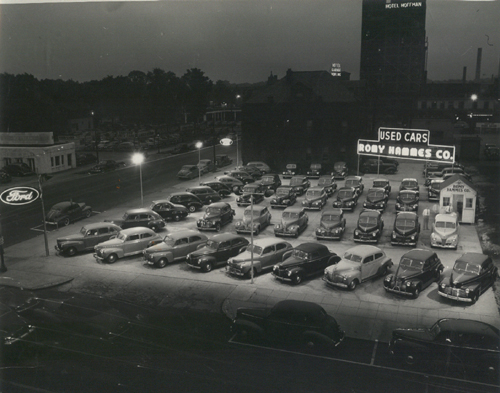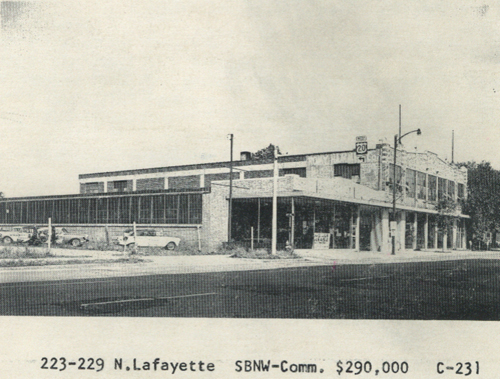 New vehicle sales and service with customer parking.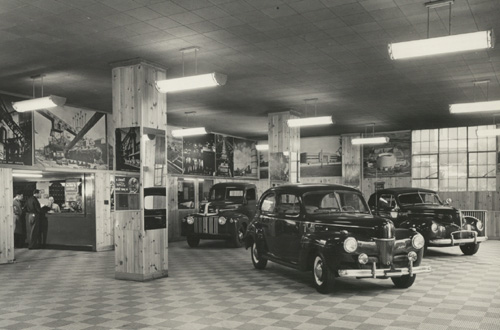 Left to Right Photo Murals...River Rouge Plant, Far right... Rotunda relocated from the 1933 Chicago Worlds Fair.
Left to Right Vehicles...Ford Pick Up Truck, Ford 2 Door Sedan, mercury Convertable.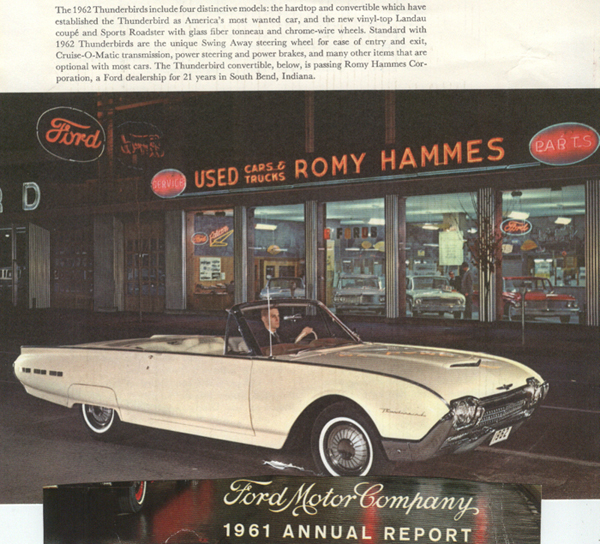 The 1962 Thunderbird Convertible passes by Romy Hammes Corporation, a Ford dealership for 21 years (as of 1962) in South Bend, Indiana.
Showroom visitors can look over a Falcon flanked by two Galaxies as well as a Thunderbird.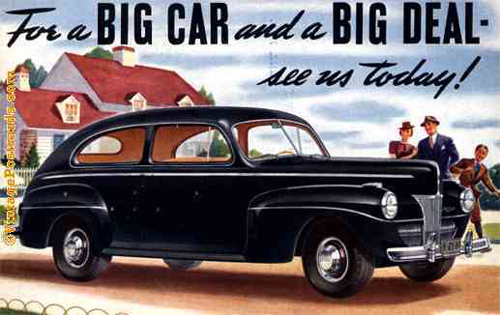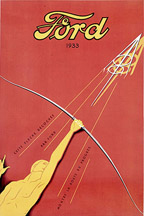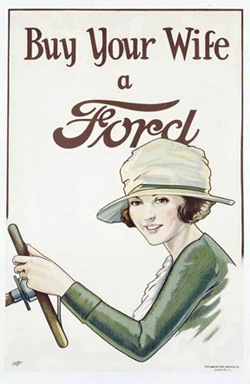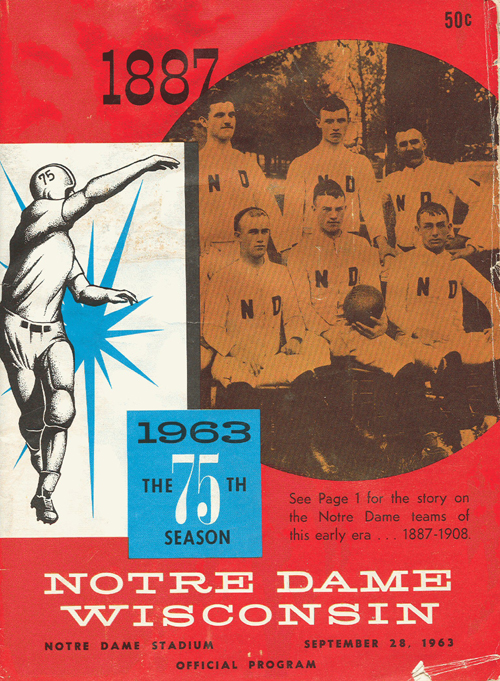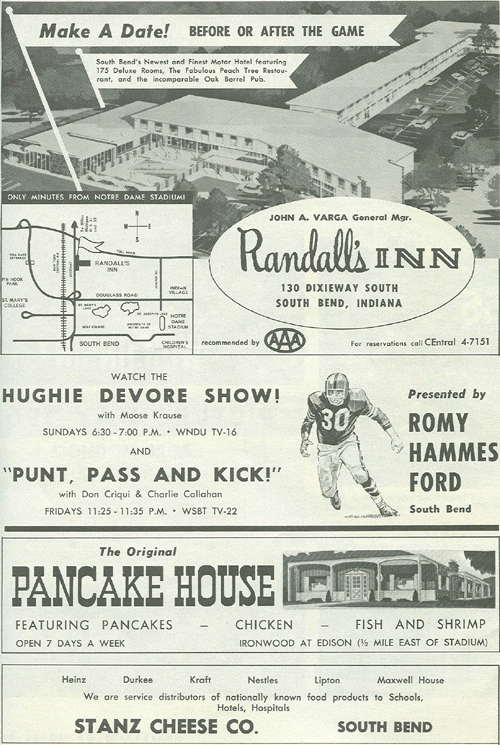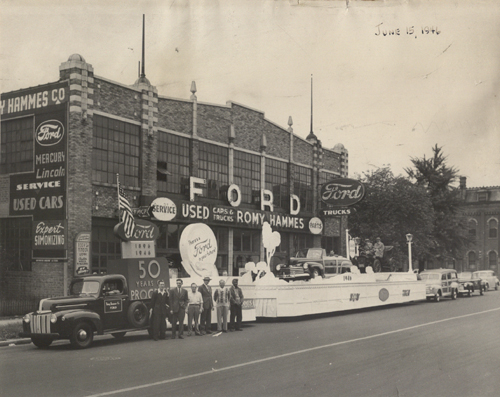 50 Years Of Progress 1896 - 1946
L to R...In the truck John Weiler ?, Hubert Stults, Bob Hammes,
Unidentified, Jim Hammes, Unidentified, Unidentified.
In the convertable, unidentified. In the Model T Jack Guzicki,
Wilbert Fisher sp?
1946 Woody Wagon, 1946 Convertable
A 1947 Ford Super DeLuxe Sportsman Convertable as shown above
sold for $275,000 in 2006 from the Dingman Collection as
reported in Automobile Magazine.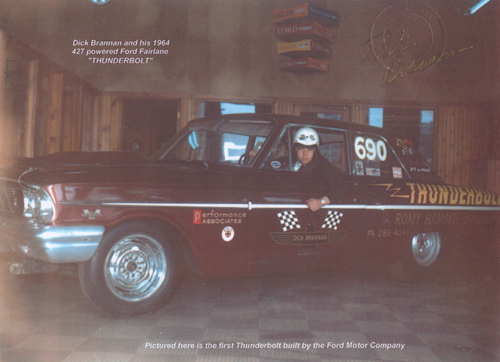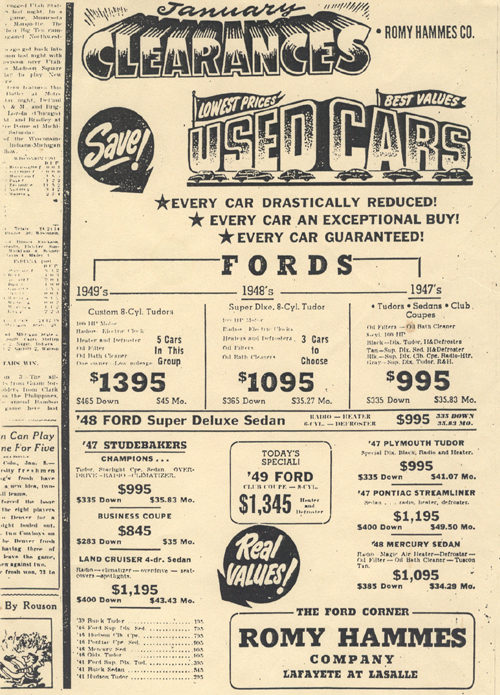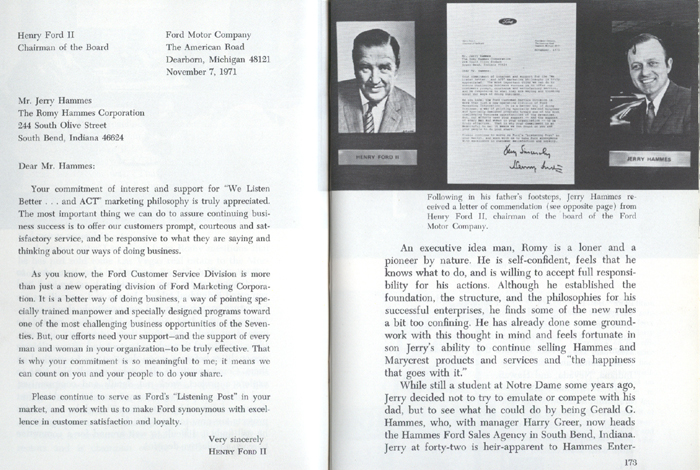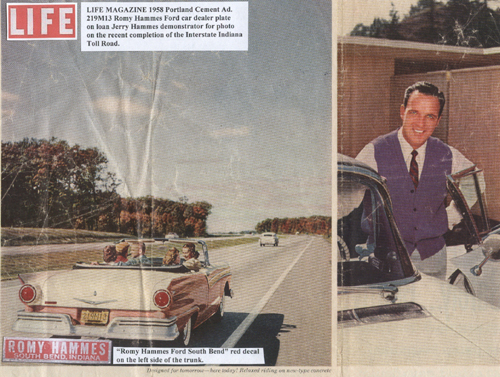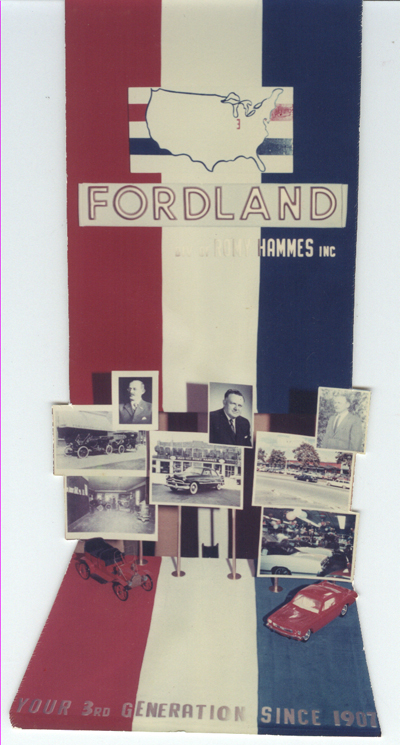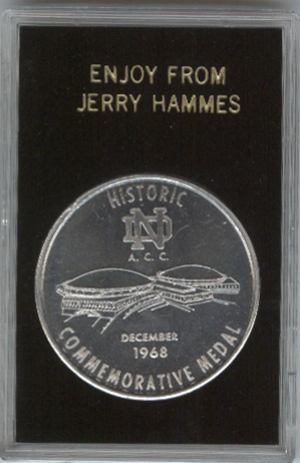 ...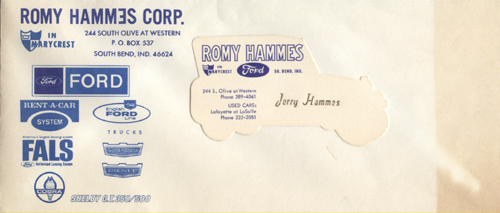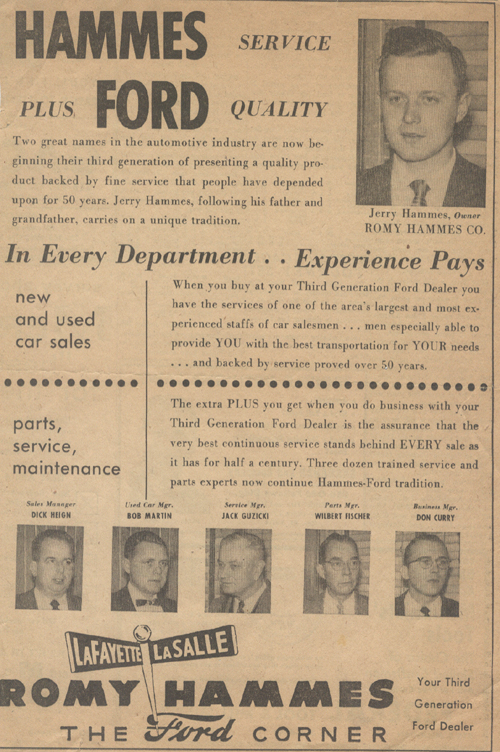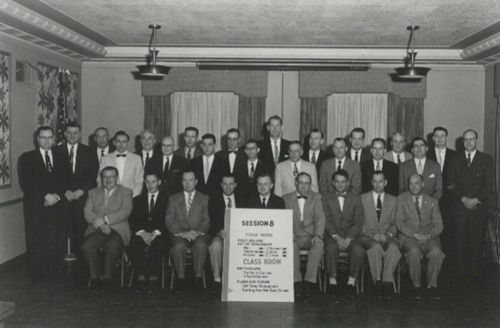 1956 Graduation from Ford Dealerships Sons School. Jerry
is located immediately behind the board.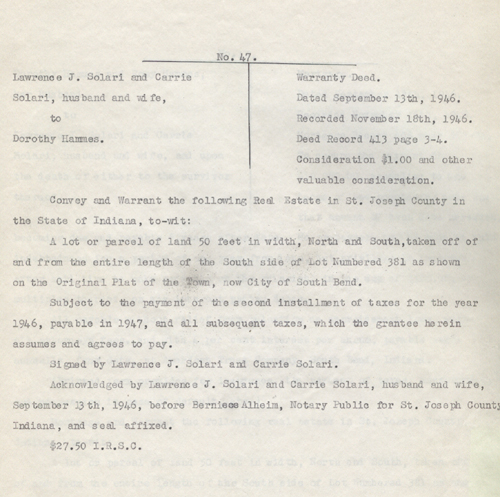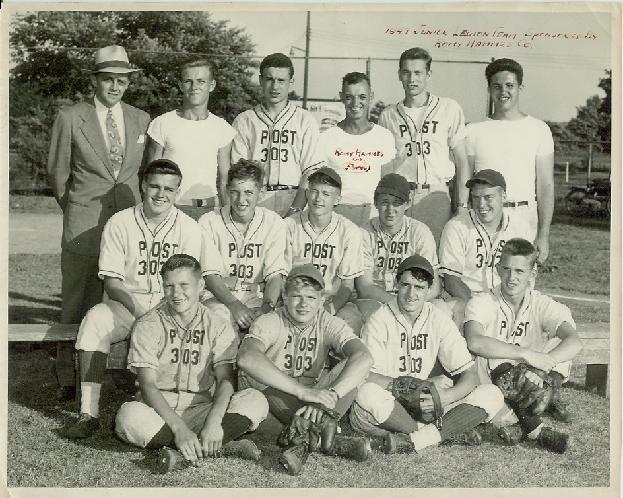 1947 Junior Legion Team Sponsored by Romy Hammes Company.
The guy in the hat is Uncle Jim!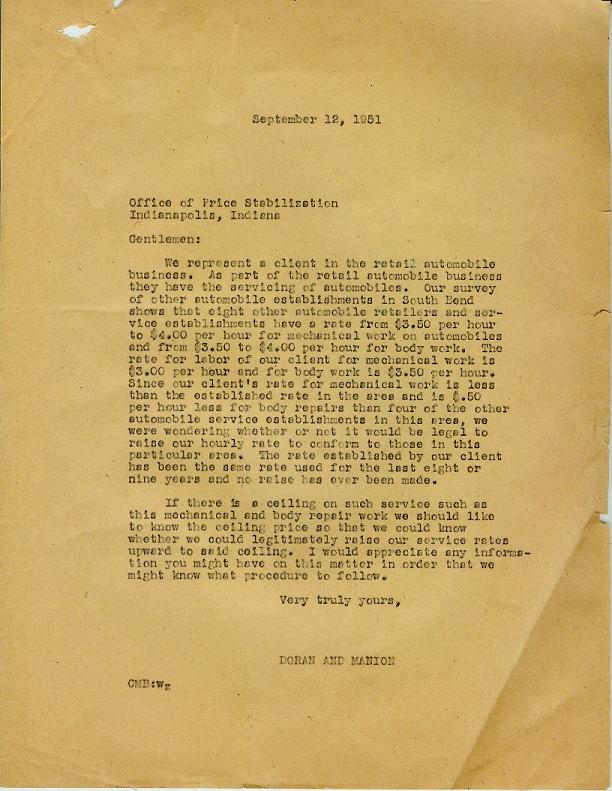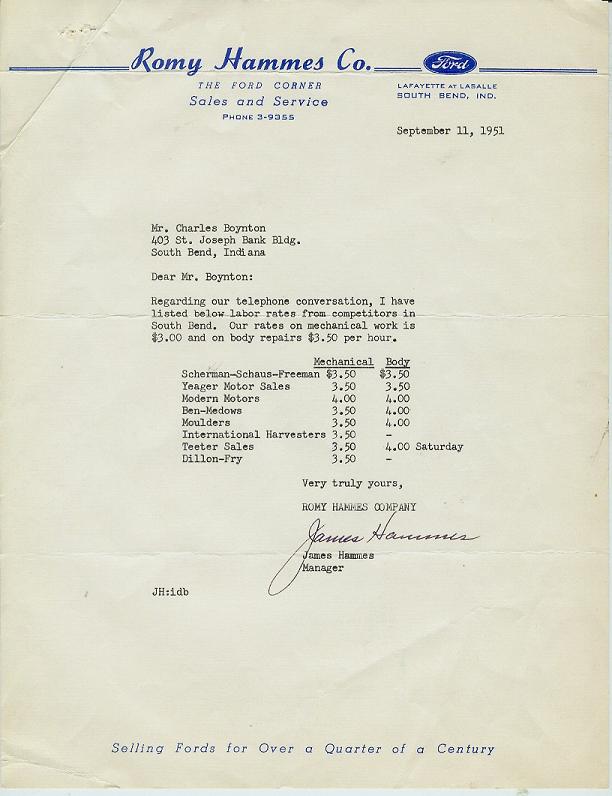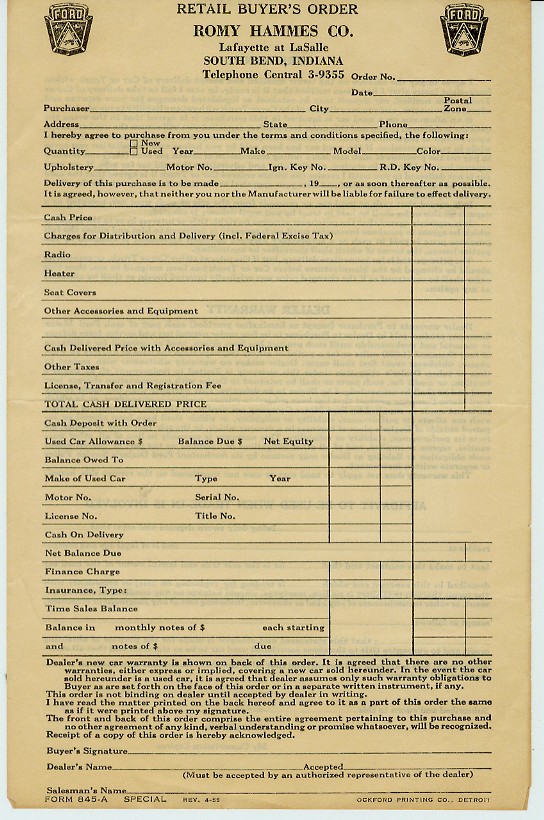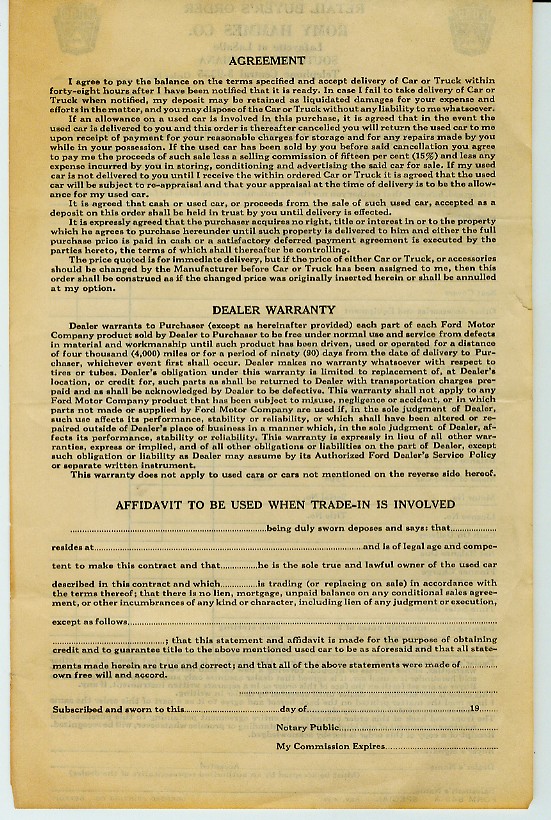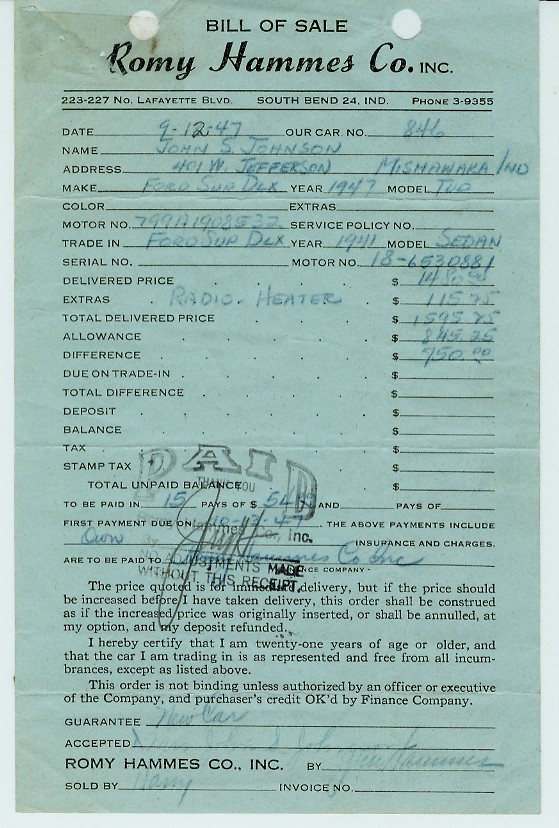 Below...1951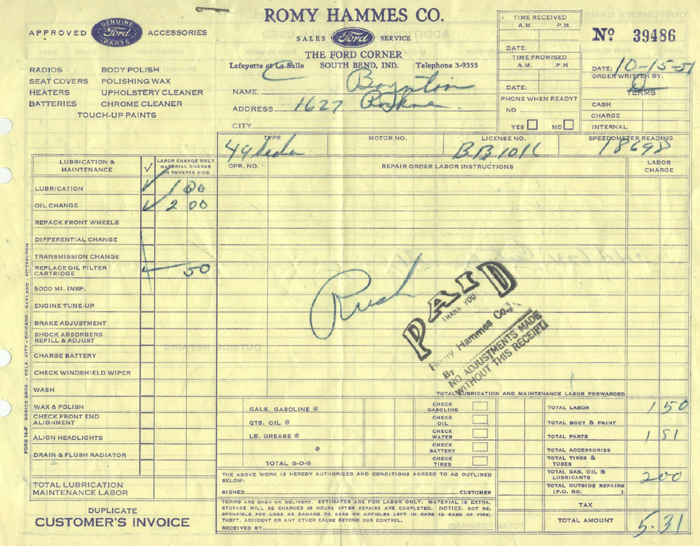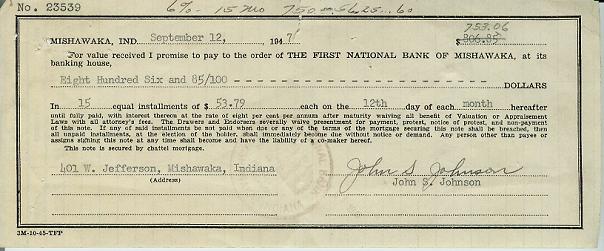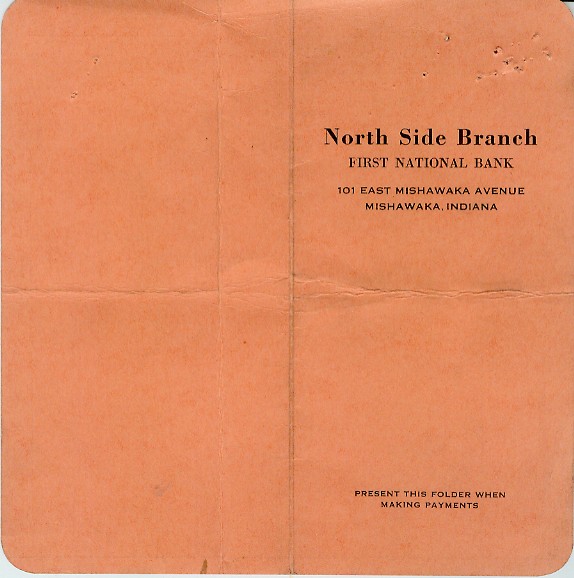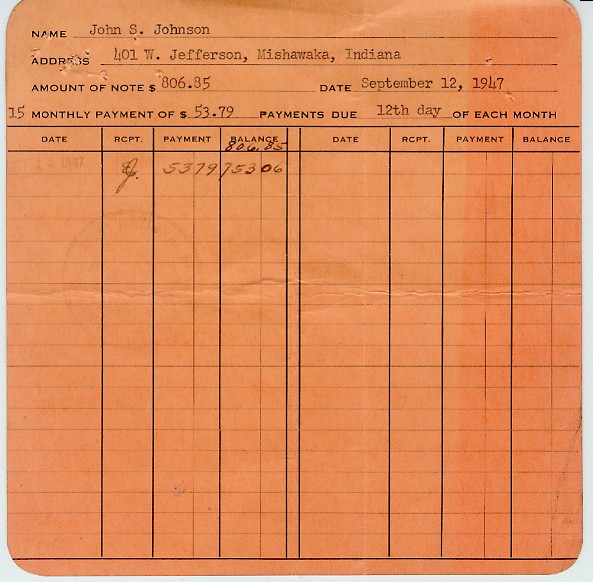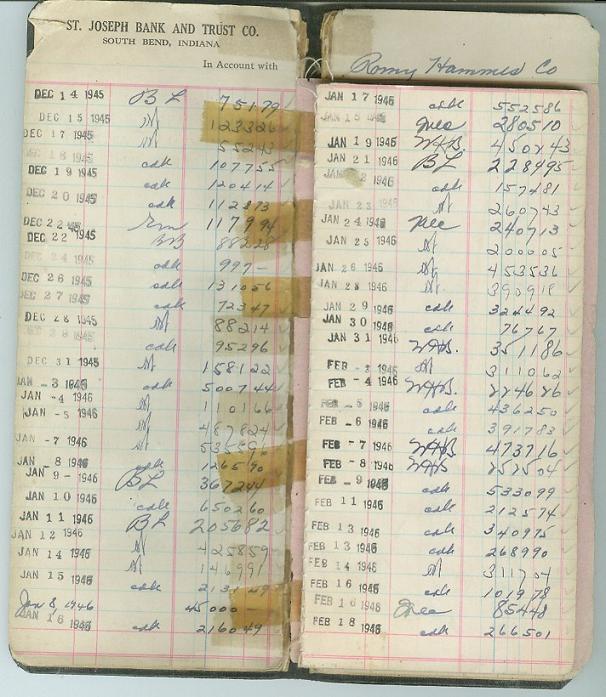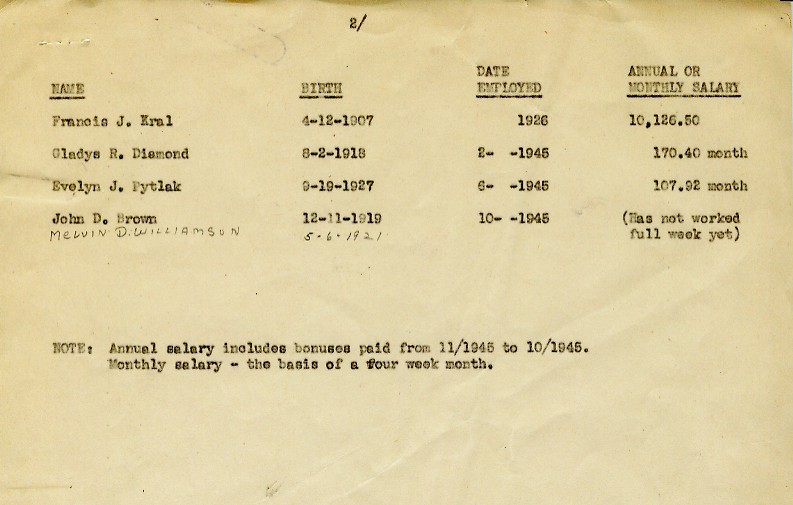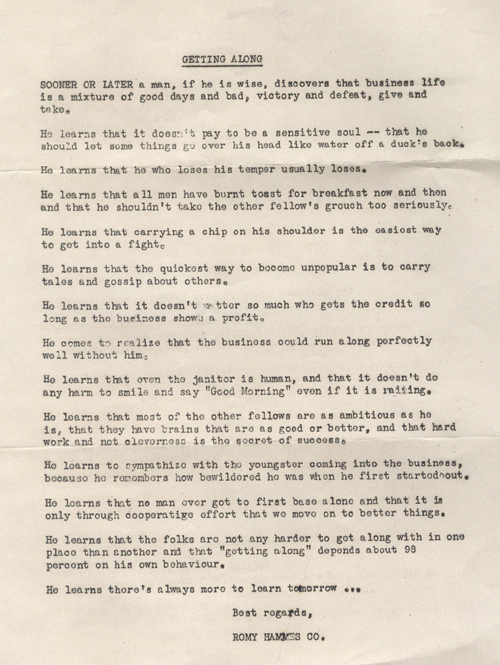 The first 1950 Ford Country Squire delivered to Andy Krizman who took the picture and is not in the car. His wife Florence is in the middle row of this 3 row station wagon.
Michigan State vs Notre Dame Offical program, October 28, 1950 Notre Dame Stadium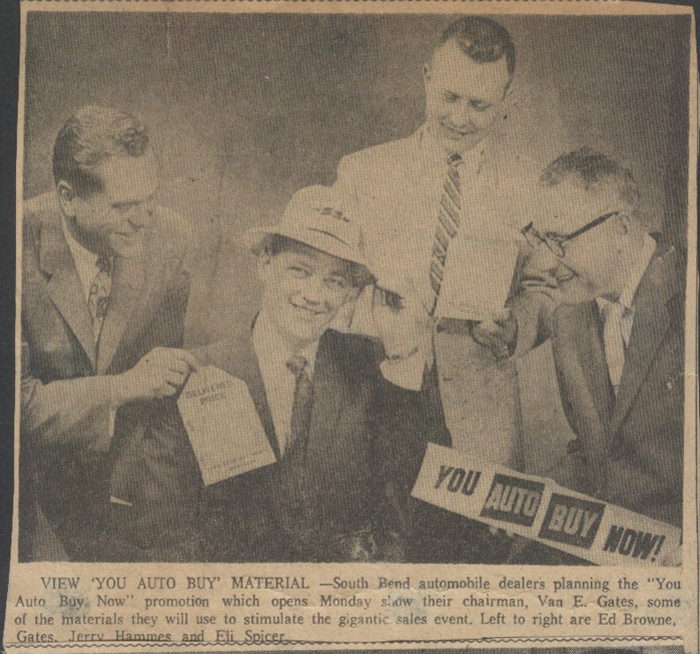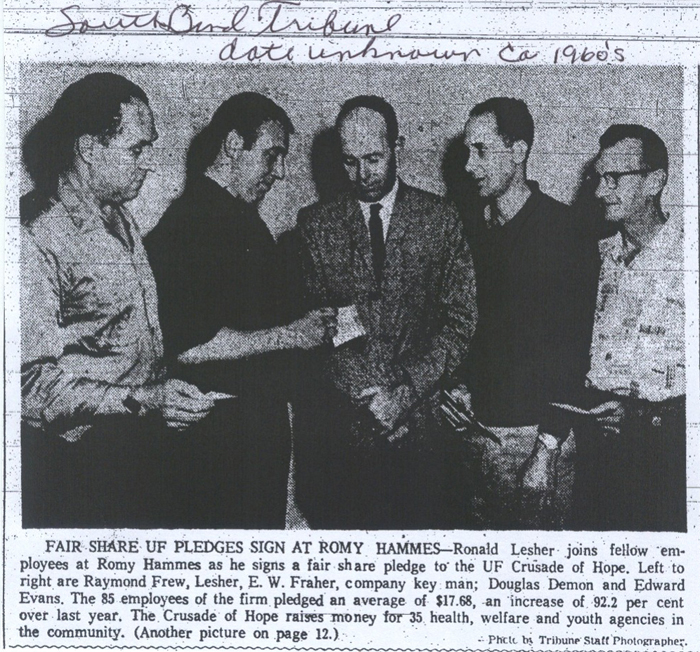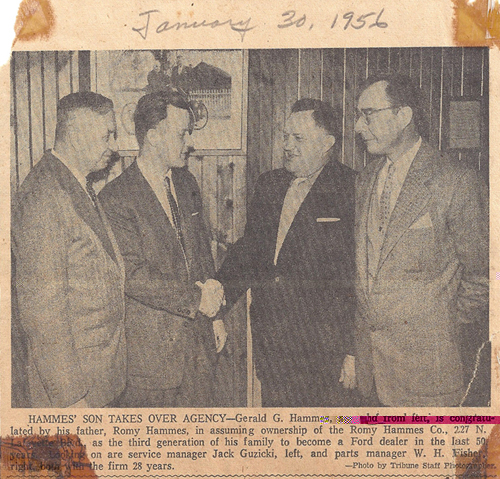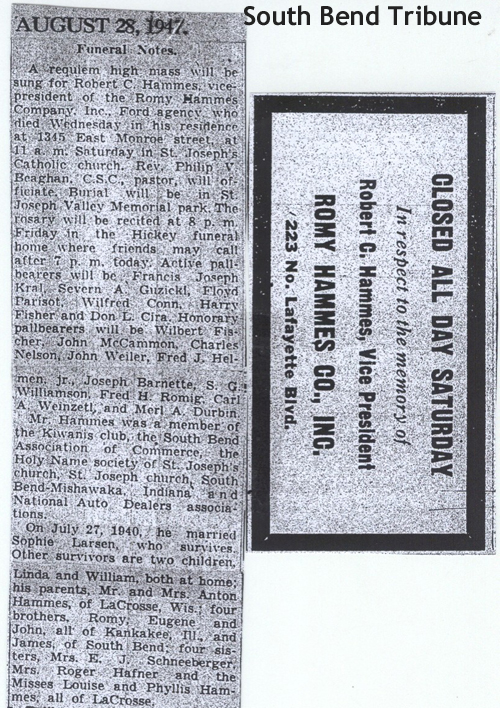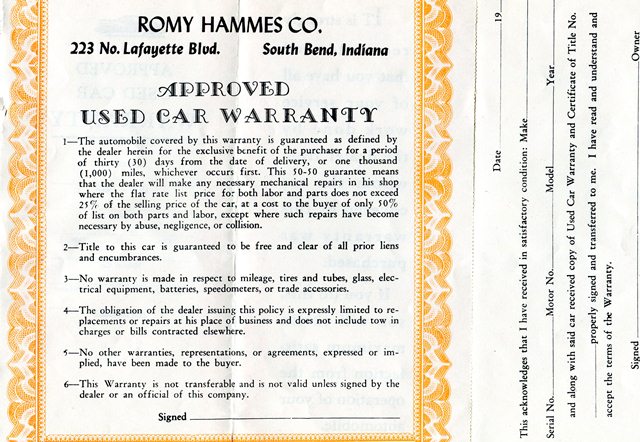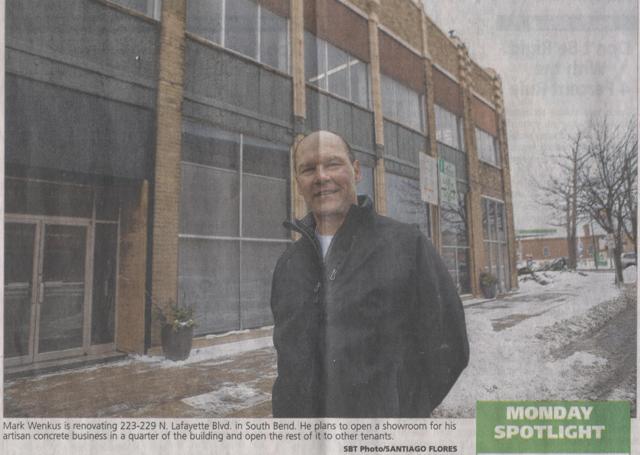 Monday Spotlight
Driving historic preservation in South Bend
Local man has plan for old car dealership, candy shop

osted: Monday, February 24, 2014 7:45 am | Updated: 12:52 pm, Mon Feb 24, 2014.
KEVIN ALLEN South Bend Tribune kallen@sbtinfo.com

Posted on Feb 24, 2014by Kevin Allen
SOUTH BEND - Mark Wenkus sees a blank canvas when he looks at the building at the southwest corner of Lafayette Boulevard and LaSalle Avenue.
The facade has floor-to-ceiling windows and terra-cotta parapets, but inside it's no frills -- the kind of wide open space that's been turned into loft apartments and condominiums, stylish offices, art studios, boutiques, bistros and coffee houses in bigger cities.
"It's limitless in its uses," he said.
Wenkus owns and operates Concrete Haus, an artisan concrete business.
He plans to use about a quarter of the building at 223-229 N. Lafayette Blvd. as a workshop and showroom for the countertops, tables, fireplaces, benches and other things he makes. The remainder of the 36,000 square feet would be available for other tenants.
The two-story building already has gone through several rounds of repurposing.
William R. Hinkle built it in 1922 to house his Ford dealership. The building has 15-foot ceilings and ramps that make it possible to drive a car from the basement to the second floor, and the reinforced concrete structure is sturdy enough to hold the weight.
Romy Hammes -- a well-known Notre Dame benefactor whose family name is on the university's bookstore -- moved his Ford dealership to the building in the early 1940s. His son Jerry Hammes continued to operate the dealership there until moving it to Olive Street in the mid-1960s.
Since then, the building has been another car dealership, a school for apprentices in the skilled trades and a factory for waterbed frames. Another company used the space to make display booths for conventions.
But the building had been sitting idle for 12 years when Wenkus bought it in April from First Presbyterian Church.
"There was just a monumental amount of junk and other things companies had left behind," he said.
There also were dead pigeons and signs that people had broken into the building through rear doors and windows. Wenkus has secured the building and cleaned out the garbage.
The building definitely needs some work -- new windows, new heating and cooling systems, some tuck pointing, some polish on the mosaic tile floor -- but overall it's in good shape. Wenkus has parked a 1970 Airstream trailer inside the building to serve as his office during the renovation process.
Jerry Hammes said he's happy to hear his old dealership building is getting some new life.
"I go by that building often," he said, adding that even the windows on the building appear to be the same ones that were there 50 years ago. "It's like time stood still when I look at that building."
Wenkus also owns the former Fredrickson Candy Shop, which dates back to 1892 and faces LaSalle next to the old dealership building.
He's hopeful he'll find a tenant, such as a coffee shop or bakery, for the old candy store. The building has 11-foot ceilings, windows that stand 7 feet tall and still has its original wood trim, coat hooks and other details.
Wenkus said he'd been eyeing the buildings at the corner of Lafayette and LaSalle for years, and he's been encouraged by other new investment he's seen downtown.
"I'd like to help make South Bend a more interesting and diverse place to live," he said. "It's gaining traction."
Wenkus knows a thing or two about renovating old buildings.
A few years ago, he bought and rehabilitated the former Macri's Bakery at 520 E. LaSalle Ave. The building, which was built in 1898 and expanded in 1916, now is home to an engineering firm.
He also bought the neighboring LaSalle State Bank building at 526 E. LaSalle Ave., and he's in the process of restoring it. His concrete business currently is based in the old bank building, which dates back to 1921.
KAllen@SBTinfo.com
574-235-6244
Twitter: @KevinAllenSBT
Hidden gems
South Bend resident Mark Wenkus is owner of Concrete Haus, an artisan concrete business. He has taken on several historical renovation projects in downtown South Bend.
Wenkus bought and overhauled the former Macri's Bakery a few years ago at 520 E. LaSalle Ave. The building, now home to an engineering firm, dates back to 1898.

He also owns and is in the process of restoring the LaSalle State Bank building at 526 E. LaSalle Ave. The old bank was built in 1921.

He purchased a former car dealership at 223-229 N. Lafayette Blvd. last year. He plans to renovate the two-story structure, built in 1922, into a workshop and showroom for Concrete Haus and other tenants.

He acquired the former Fredrickson Candy Shop with the car dealership last year. The old store, built in 1892, faces LaSalle Avenue. He plans to make it available for lease.

Wenkus' main business, Concrete Haus, is based in the former LaSalle State Bank building at. The phone number is 574-252-9472.

Related Galleries
Renovating a Lafayette Blvd. building
Mark Wenkus is renovating a fromer car dealership on Lafayette Blvd.